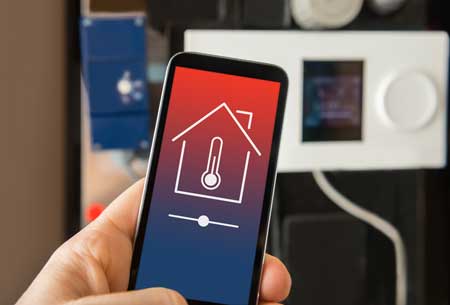 Heating Replacement
Replacing your heating system is a large undertaking. That is why you need the trusted professionals from Pompeii's Plumbing & Heating to get you through the process. We will make sure you get the best possible new heating system for your home, and we will install it professionally, so you can be sure it will work when you need it to.
When to Call for Cleveland Heating Replacement Services
It can be tempting to put off replacing your heating system until it completely breaks down. This is never the best option, though. You should call for professional service on your heating system if you notice any type of change in the way it heats your home. Particularly, you should call for our Cleveland heating replacement services if your heating system is heating your home inconsistently or incompletely.
This on its own does not necessarily mean that you will need to replace your system. But it is a good indication of a problem, and only an experienced technician can tell you how serious that problem is. You may also be better off replacing your heating system if you have to call for minor repairs frequently or if you notice an increase in your heating costs without a corresponding increase in the heating load.
In both of these cases, you have a heating system that is not working at peak energy efficiency. That means you are paying more to run it than you should, and you are likely paying a good deal for repairs too. Replacing your heating system under these circumstances will save you money on your monthly energy bill, and it will also eliminate those troublesome repair costs.
Plus with a brand new, professionally installed heating system in your home, you will not have to worry about when your system is going to break down on you again. And even if your system is still working well, if it is more than 10 years old or so, it still makes sense to replace it. That is because new heating systems are so much more energy efficient than their predecessors and the amount you will save on your monthly bill will quickly pay for the cost of installation.
Professional Heating Replacement
Whether you know it is time for a new home heating system or if you are not sure, do not hesitate to give Pompeii's a call today. Our expert technicians will be happy to assist you in determining if you need a new system and what system would be the best fit for your home. Once that is done, we can get started removing your old system and installing the new one as quickly as possible.
Our technicians have many years of experience dealing with home heating systems, so you can be sure the work we do will hold up long term. We also only use the best quality parts and materials in all of our Cleveland heating replacement projects, and we will dispose of your old system for you, so you do not have to worry about that either.
No matter what type of heating service you need in the greater Cleveland area, be sure to give Pompeii's a call today.
Pompeiis, Family–Owned Since 1941
As a family–owned, full service, repair, replacement, remodel and installation plumbing, heating, and air conditioning contractor, Pompeii's has been in business since 1941. For three generations, Pompeii's has been an integral and respected part of the Cleveland area plumbing and heating professional community. Since our incorporation we have provided our services to the residential and commercial markets.
Our highly experienced and qualified staff specializes in customer service. We offer personal service at the highest level. All service technicians are fully qualified and trained to repair your problems. All service trucks are fully stocked and radio dispatched for rapid response. Our large fleet of service vehicles offers you reliable, same day and 24 hour emergency call service in the Greater Cleveland area.